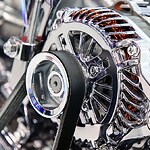 Your car's electrical system is a finely tuned technical masterpiece that gets your engine started most of the time. The system consists of your battery, starter and alternator. Most people are familiar with the first two, but the last is a bit of a mystery. Here's our Basic Auto Sales service department's brief explanation.
An Electrical Supply
An alternator generates electricity as you drive through Ashland. It gathers mechanical energy from the motion of your wheels, turning this energy into electricity.
The generated electricity fuels your car's electrical
Read More